Brand:RSHG
Description:Rotary screen printing photo emulsion
Origin:China Zhejiang
MOQ:100kgsKilogram/Kilograms
Port:Ningbo
Payment Terms:T/T
Supply Time:Day
Packaging Details:plastic bottle (or bucket) with carton
Product detail: Photo Emulsion for Rotary Screens Printing Plate
1.Blue (or milk white,green) emulsion,25% solid content
2.Low curing temperature,short curing time,wide exposure latitude,good
durability,high resolution,accurate plate making,can check the screen printing
plate easily;
3.Apply tor squeegee or magnetic rotary screen printing machine in printing
and textile industry;
1kg per bottle and 15 bottles per carton

5kgs per barrel and 4 barrels per carton

10kgs per barrel and 2 barrels per carton

20kgs per barrel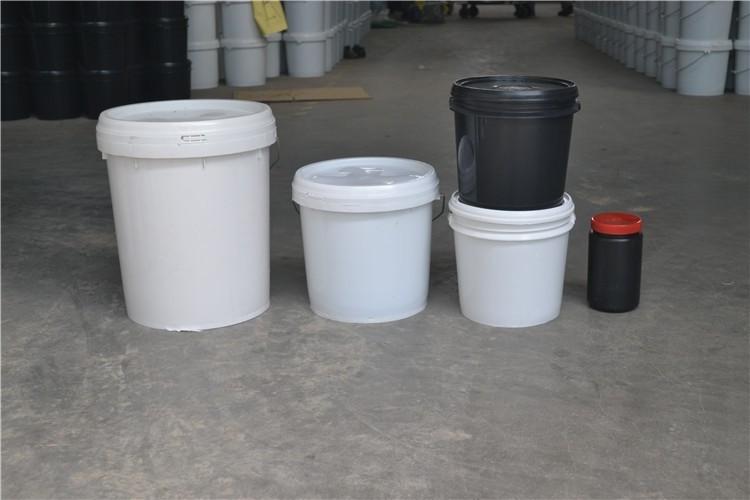 Zhejiang Rongsheng Technology Co., Ltd was founded in 2008.Mainly produce Photo emulsion for flat screen printing; Photo emulsion for rotary screen printing and other printing auxiliaries. Any needs or questions, please feel free to contacut us! As a manufacturer with so many years exprience in this field, we believe that we can offer your best service with resonable price!
Contact person: Eva Chen
What's app:+86-13106082866
Skype:chenyf1991
Wechat:33079804 or sweep the QR code
Washing the screen:Immerse the screen into Cleaning Liquor for Nickel Screen for around 10 minutes,take out and rinse with water,then dried at low temperature in an oven. At the same time, prevent the screen from being stained with dirt(It is necessary for operators to wear protective gloves avoiding corrosiveness).
Preparing the sensitized emulsion: It should be operated under a gentle yellow light(Prohibit from operating in no opacifying condition).Put 40lm photosensitizer into 1kg sensitized emulsion and stir clockwise until balance.After stirring, there will appear bubble, so you need to put it in a low temperature and dark place for hours until the bubble is gone.
Coating: Prepared emulsion is added in to a clean scraper ring and coated on the clean screen with a speed of 10~15cm/min,then dried at 35~40℃ and 60% relative humidity in an oven with circle wind for 30~40 minutes without no more than ±2℃ temperature differences.
Exposure: Fixed the coated screen on an exposure machine and fit the manuscript closely. The fit time should be determined after trial. Reference time: 5-8 times on a scanning machine or 1-5minutes on a stationary exposure machine.
Development: The exposed screen should develop timely by putting it in water at 5-30℃ for about 3-5 minutes, then washed until patterns appear clearly, then rinse off the leaked emulsion with water under low pressure, and dried in a constant temperature oven.
Retouching: Inspect the dried screen on an examination shelf. It is necessary to retouch the stencil with repair emulsion for rotary screen printing plate if there are blister, pattern leakage or screens stoppers.
Curing:Curing the retouched screen at 180℃ for 30-60 minutes in a constant temperature oven box until the surface of the emulsion becomes golden. Then take it out to bind with end-ring after cooling down.(Note: because different sensitized emulsion with different curing time and curing temperature, so it should according to the manual)
Binding the end ring: Before binding the end ring, you should use fine polishing paper to polish the bonding surface at the end of screen and end ring, then wash it with acetone or absolute alcohol, after dried put it on End Ring Gluing Machine, gluing the end ring adhesive evenly on the inner wall of screen(2cm) and end ring surface, so that they can bond. Remove the needless adhesive layer, heat curing it at 160-180℃ in a oven box after heat curing at 80-120℃ for 20-30 minutes or curing in a normal temperature.(Note: different end ring adhesives with different process conditions, so it should according to the manual)